---
I support the rights of all people to be married, and am happy to offer my services for commitment ceremonies, civil unions, as well as religious weddings and celebrations.
---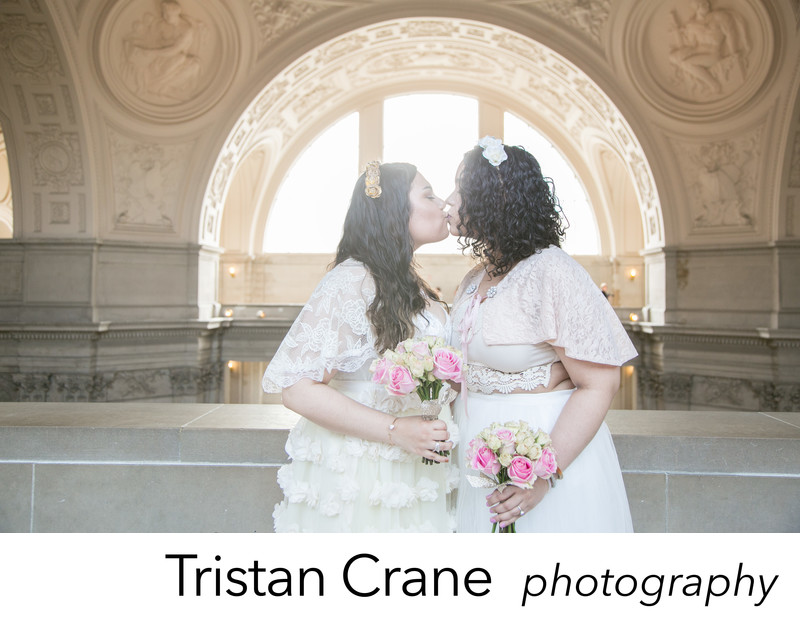 ---
I am currently taking bookings for the 2019 and 2020 seasons, feel free to contact me with inquiries about pricing, options, and how to secure your date.
---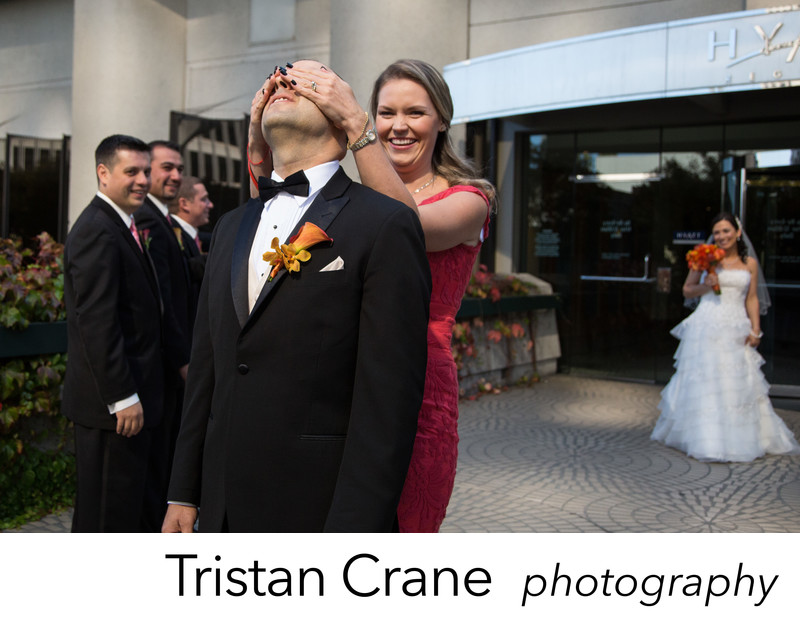 ---
Reviews from some of my former clients can be found on Yelp.
Client Testimonials :
From Erika A, "I recommend Tristan Crane Photography 100%, without hesitation. We were impressed with the attentiveness and sensitivity to the process that Tristan showed, and felt we would be in good hands. We got all the photos we wanted, and it seemed Tristan never even broke a sweat. My family loved working with Tristan, and despite having multiple family members who are both camera shy and self-conscious, he managed to put everyone at ease enough that the family photos look amazing. Tristan has a gentle talent for teasing out everyone's best side - and he gives GREAT tips on how to stand or position yourself to look composed and beautiful on a day when all you want to do is grin like a loon!

We received teaser photos within a few days, which was enough to tide us over until the full, completely fantastic set arrived, which we we received on time. We are incredibly happy with the photos, they are everything we hoped for and more - tons of inspired candids, couples shots which truly capture the love and amazement of our wedding day, and all the shots highlight the natural beauty of our wedding's setting. A++, a fantastic experience all around."
Anne K, "the photos are amazing. We all look so good! And so happy! I'm really pleased with the results, and looking forward to getting around to finishing assembling my wedding album. Tristan's Web site and hosting made it easy for family and friends to order prints, as well. And I already treasure the photos and all the work he did to make us look as happy as we felt, and preserve the memories of our best day yet for us.
Jemima P, "Tristan shot more formal portraits of me and my husband, but they also caught a lot of candid moments between us and guests at the reception. Some of the candid shots were our favorites! Throughout it all, they were reliable, professional, and an all-around pleasure to work with. They addressed our individual concerns and preferences and before the wedding, came up with a plan that suited us as a couple. All our family and friends were really pleased with the pictures."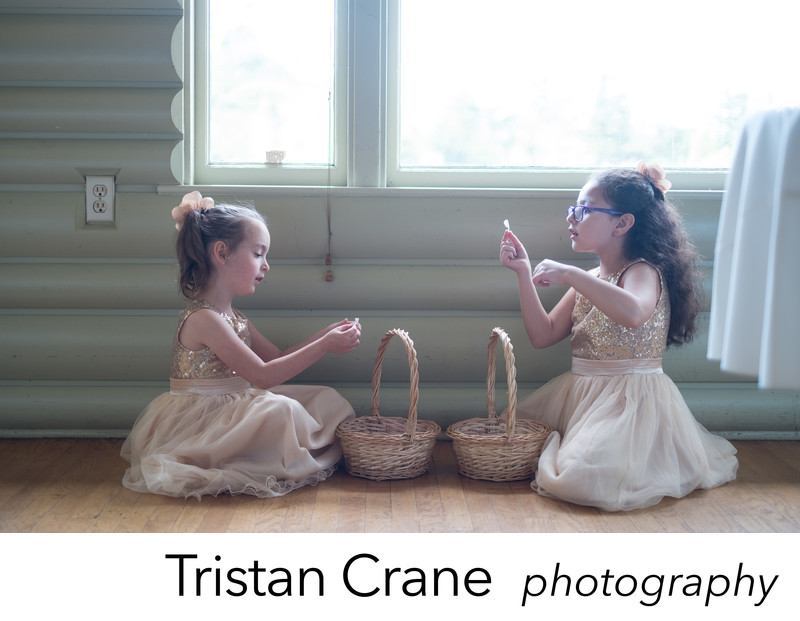 ---
Rates
---
My hourly rate for wedding photography is $300, this includes retouching/processing of your images, digital delivery of high resolution files, and hosting your images in galleries on my website. I grant print and reproduction rights to all of my clients. There are no additional charges.
I do require a minimum booking of six hours on weekend days due to high demand, I've also found this is the shortest time I can cover a wedding while successfully telling the story of your day.
I recommend a minimum of two hours booking for City Hall weddings, three hours if you would like to do portraits in a separate location outside of the building.
Please don't hesitate to contact me for a custom quote for your smaller, shorter, or destination wedding.
A Full day booking (Up to 8 hours) is $2,400, additional hours can be added on per request.
You may add a second photographer for an additional $50 per hour, I recommend this option if you are planning a larger wedding (Over 150 guests). For extremely large weddings (250+ guests), a third photographer at the same rate is also ideal. This ensures we are able to interact and document all of your guests while I'm photographing you and your family.
I do have several preferred vendors I enjoy working with, email me to request information and their rates, or contact them directly.
---
Frequently asked questions!
Do your packages include high-resolution files?
My standard full day package includes a free engagement session, wedding day coverage up to eight hours, a private gallery of your images hosted on my website with easy print-ordering options, along with a hard drive or digital download of the high resolution images for you to keep. I provide files in both high-res and web-ready sizes so it's as easy as an upload to Facebook to share your photographs with family and friends.
Can I get copies of every single image you shoot at my wedding? How many photos will I receive?
You don't want every photo, trust me! We shoot upwards of 3,000 photographs on a day long wedding, and there are even more with a second shooter. Actual final image numbers will vary depending on the size of your wedding, but generally I deliver between 400-700 final images for a full day booking, or roughly 40-60 final images per hour.
I know Photoshop, can I retouch my own wedding photos?
All of my final images are retouched for contrast, color correction and exposure balance. My contract states that I am the only photographer to retouch my images, as they are my personal branding and represent my work. In our initial consultation we'll discuss your preferences for style – color or black and white, and I offer extended retouching services at a reasonable rate should you prefer more extensive retouching.
What type of gear do you use?
I shoot with professional Canon camera bodies, lenses, and flashes, as well as the Fuji X mount system and lenses. I do bring backups in case of emergencies (haven't had one yet, but you never know), and I carry liability insurance.
Do you shoot queer, gay, polyamorous weddings, or alternative weddings such as handfastings and commitment ceremonies?
Absolutely. I'm personally queer-identified and support the rights of all people to be married, partnered, or committed to one another in the way they choose. I believe in freedom of religion and personal expression, and that my job is to document each ceremony with regard for the personal and religious beliefs of my clients. I have been blessed with a diverse clientele, and look forward to each unique ceremony.
Can my dog/cat/pet companion be a part of our engagement session or wedding?
Absolutely! I love all animals.
Do you charge extra for destination weddings?
Short answer, no, although I require that all costs be covered including air fare, meals, rental car and hotel room (I'm happy to stay in a guest room as well to cut down on your costs).
Ever book two weddings in one day?
Never. I put a great deal of energy into photographing a wedding, and I will never double-book shooting your wedding, or hand off a job to another photographer.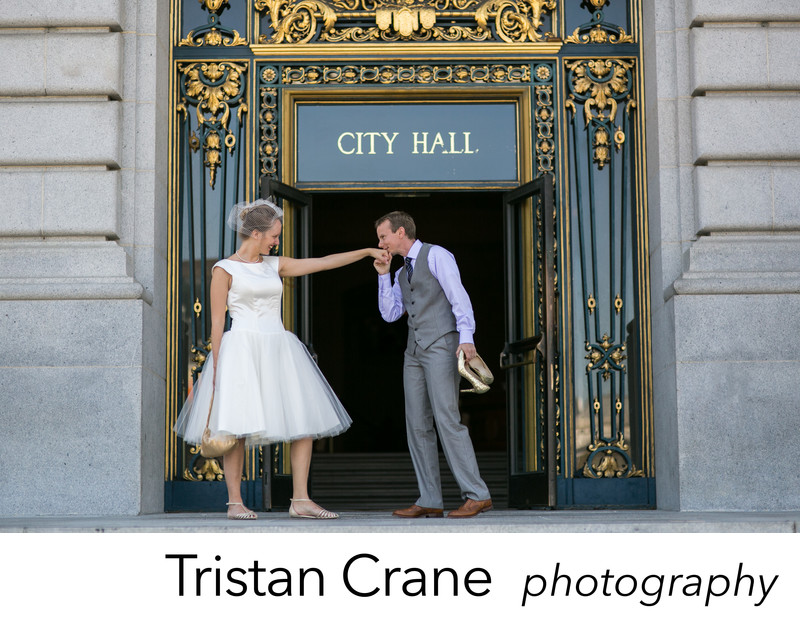 What is required to get married at San Francisco City Hall?
There are two simple hoops to jump through – obtaining your wedding license, and making a ceremony reservation. Both can happen on the same day, but make sure you leave about an hour in between – just in case (I have never seen it take longer). You can register online for your appointment, the license can be obtained up to 90 days in advance of your ceremony and costs $95. Go to room 164 on the first floor of the building. It takes about 20-30 minutes for the license, documents can be printed out from the city website and filled out in advance. Once you obtain the license, your ceremony will take 5-10 minutes and is administered by a County Clerk, the fee is $77. You'll also need at least one person to sign as your witness, this can be anyone, a family member, random stranger, or even your photographer in a pinch.
Where is the best location to be married at San Francisco City Hall?
The ceremony will take place in any part of the building you like, provided it aren't over crowded. Some holidays, such as Christmas or Valentine's day can be very busy, take this into consideration if you're intending to be married on one of those days. The most popular location is the Rotunda, at the top of the main staircase of the building. Nearly every location in City Hall is beautiful. You will be allowed 6 guests, plus your photographer. The city charges an additional fee should you wish to be married on the 4th floor or the Mayor's balcony, this allows you more guests (up to 100) as well as time for a toast or reception afterward.
Our city hall ceremony went by so quickly! Can we take photographs in other parts of the building?
The civil ceremony is quite lovely, but it is extremely quick! There are a number of beautiful locations around the City Hall, with plenty of room for photographs of you, your family, friends, and witnesses. I like to start with some portraits on the top floor, with the dome as a backdrop and beautiful light, and there are a number of iconic views of the city around City Hall that we can also explore – or jump into a cab or car to go elsewhere for some portraits.
After the wedding, how soon can I expect to see my images?
People are so excited to see the photographs from weddings, and I do my best to turn around each job as quickly as possible. I guarantee file delivery within one month of your wedding, and generally you'll get them sooner, depending on my shooting schedule.
Booking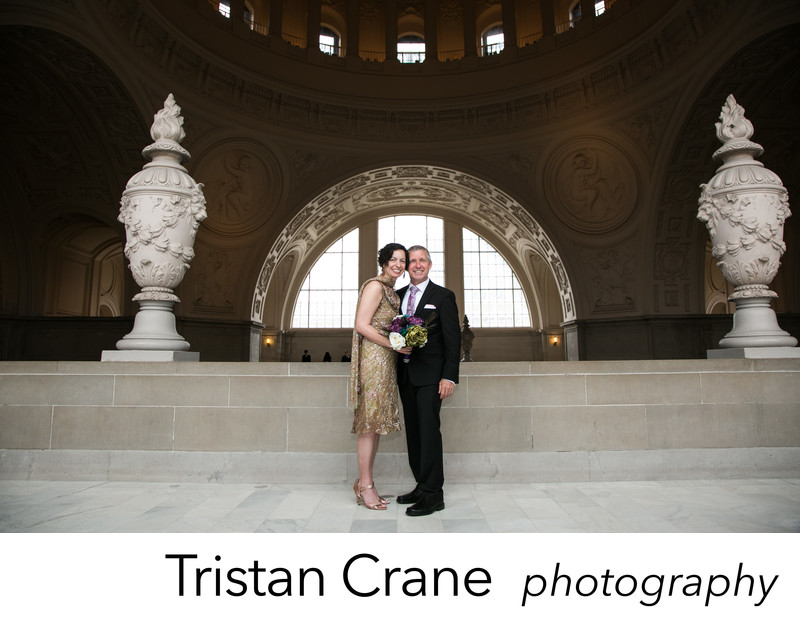 ---